Certain areas in our house keep begging for renovation or style-up but we often brush them under the carpet. Though they have high design potential, they don't get attention. One such area is the kitchen of the house.

Don't we all wish to give our kitchen a lavish look? A look that makes people go awestruck and a look that is eye-catching and praise-worthy. But many people take a step back thinking that renovating the kitchen will be an expensive affair.

But that's not true. You can modernize your outdated kitchen within your budget. You just need to opt for the right methods to spruce up the space. Methods that are cost-efficient and have the potential to get you the desired results.

Whether you're looking to fix up your kitchen to put it on the market or just want to bring some fresh updates to the space, you don't have to spend a lot to get big results. Let's disclose such ideas to you.

Ways to Modernize Your Kitchen

Replace the old cabinets

Cabinets are the soul of the kitchen. We always consider kitchen cabinets to be well-organized but we hardly pay attention to their capability to enhance the visual of the kitchen. As cabinets acquire maximum space in the kitchen, if we pay attention to renovating kitchen cabinets, we will end up injecting new vibes into the entire kitchen.

The best part is that there are numerous styles that you can opt to renovate the kitchen cabinets to spruce up the kitchen area. You can paint these cabinets with vibrant colors or can replace their door. Both these ideas will be cost-efficient.


Mix up texture

Amp up your kitchen's visual interest by incorporating different textures and materials. If you have a window in your kitchen, put up some stylish curtains in a fun pattern. Or take a nod from Julia Child, who hung her pots, pans, and utensils from a pegboard in her kitchen. A new light fixture in trendy rattan or seagrass will add an earthy element to your design.

Declutter the kitchen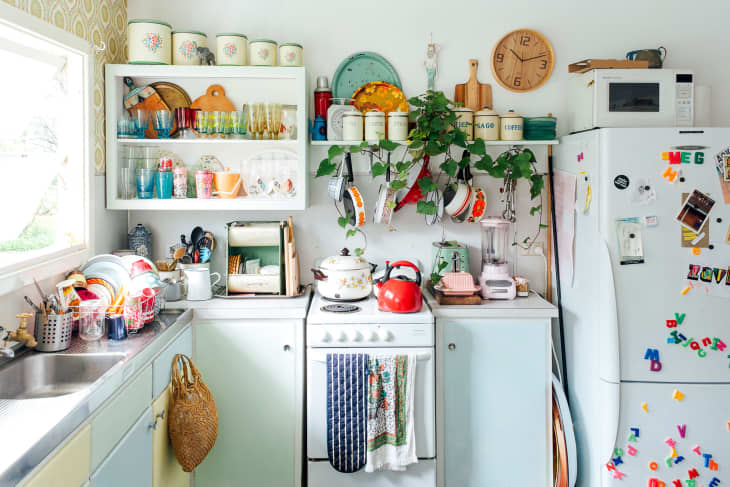 This is an option that costs you no money at all, decluttering. Having cluttered countertops and drawers jam-packed with tools you never use does nothing for your kitchen's design sense.

Pull everything out to see what duplicates you have, toss broken items, and donate items you never use. You'll have more room for the pieces you do have, and it'll give you a chance to keep things tidy and clean.
Install lightning

Who said that a stunning light fixture doesn't belong in the kitchen? Traditional glass pendant lights can easily brighten and charm a kitchen, or Sputnik or Edison bulbs can be an interesting juxtaposition to a modern kitchen.

Lighting underneath your cabinets can also serve as a spotlight of sorts for your beautiful countertops and can be accomplished with low-cost LED strips.


Sprucing your kitchen is the best feeling as it gives your entire house a modern touch. It will be a time-consuming process but trust us it is worth it.